Semtech Corporation, a leading global supplier of high performance analogue and mixed-signal semiconductors and advanced algorithms, has added multi-band capabilities to its LoRa Edge device-to-Cloud geolocation platform. The new LoRa Edge LR1120 allows for direct satellite-connected Internet of Things (IoT) applications in supply chain management and logistics with seamless low power geolocation on a global scale.
"Semtech's LoRa is targeting track and trace challenges faced by the logistics industry today with a geolocation IoT platform adapted to global transportation and mass-scale asset management," said Marc Pégulu, vice president of IoT product marketing for Semtech's Wireless and Sensing Products Group. "With the launch of multi-band LoRa support, coupled with LoRa Cloud services, it has never been easier to expand ubiquitous IoT connectivity and geolocation globally."
With LoRa Edge LR1120, intercontinental logistics companies can leverage highly integrated, ultra-low power trackers with enhanced interoperability, more versatile connectivity for a simpler operation and global mobility across multiple regulatory regions. Additionally, the possibility to offer a low-power and low-cost sensor with satellite connectivity unlocks a multitude of use cases in infrastructure monitoring, agriculture and environmental monitoring that require deployment in remote areas, which tend to be very capital intensive.
According to Christopher Taylor, Director, RF & Wireless with Strategy Analytics, "Combining LoRa with small, relatively low-cost LEO satellites will change the game for LoRa and IoT. Adding satellite communication capabilities in the S-band to LoRa can help replace aging SCADA monitoring and opens up new applications and markets, especially in remote regions. So far, LoRa has attracted the interest of several satellite companies including EchoStar and Lacuna."
Key Features:
Multi-band LoRa capability (sub-GHz, 2.4GHz and licensed S-band for satellite) and multi-technology geolocation using GNSS for outdoor and Wi-Fi for indoor, as well as areas where satellite coverage is poor
LoRa Cloud geolocation solver, which transfers the location processing workload from the device to the Cloud, making 'deploy once' battery life possible
Supported by GPS and BeiDou constellations
Hardware crypto engine for increased security
Bonus content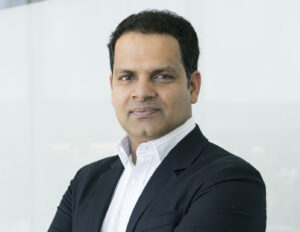 Sree Durbha (pictured), Director of LoRa Edge Product Management, spoke exclusively with Logistics Business:
Logistics Business (LB): What is the typical customer this product is aimed at?
Sree Durbha (SD): The new LR1120 is the next product in the LoRa Edge portfolio that adds the ability to operate LoRa in the universal 2.4GHz and the SATCOM S-band (licensed portion of the S-band between 1.9GHz and 2.2GHz) for terrestrial and satellite communications utilizing the onboard GNSS (GPS/BeiDou) and Wi-Fi passive scanners for indoor and outdoor geolocation. Customers in a variety of industry verticals are interested in developing trackers and end nodes based on LR1120 targeting applications such as transoceanic shipping cargo transportation, logistics companies trucking goods between different EU countries. Our key customers and partners commercialising this solution are industry leaders in the space industry and intercontinental logistics companies. We also work with network operators, systems integrators and solution providers who are developing satellite LoRa and 2.4GHz LoRa based IoT solutions.
LB: Where does it have an advantage over competitive alternatives?
SD: LR1120 is a highly integrated multi-technology, multi-band indoor/outdoor geolocation solution with the location engine based in the cloud (LoRa Cloud by Semtech). This unique architecture delivers ground breaking flexibility in choosing networks as well as power consumption that's 10x lower than comparable discrete GNSS solutions out there. We've seen several customers take advantage of this value proposition with their LR1110 based products over the past year.
LB: What is the timescale for integration/implementation?
SD: One of the goals for our LoRa Edge device-to-cloud platform is to empower our customers and partners to shorten their design cycles by absorbing critical components like modem development, end-to-end development using our tracker reference design and integration cloud based geolocation and modem management services. Having all of the hardware, software and cloud services components available from a single source like Semtech affords customers the ability to speed things up. So we've seen some of our LoRa Edge customers go from concept to commercial launch of their trackers or remote monitoring devices in about 12 months. We expect a similar or better timescale for customers adopting the new LR1120.
LB: What are the operational and fiscal benefits customers are likely to enjoy?
SD: Along with the hardware, software and cloud services integration benefits outlined above, customers will also benefit from a unified satellite based LoRa network service offered by our operator partners such as Echostar, Lacuna Space and others. This not only provides a single network to roam across all of continental Europe for example, but also cuts the operational costs of having to pay for multiple regional public and or private networks for use cases such as transporting goods across geographical boundaries in Europe.
The post Semtech platform extended to support worldwide tracking appeared first on Logistics Business® Magazine.