Pitney Bowes Inc., a global shipping and mailing company that provides technology, logistics and financial services, has released new data from its BOXpoll survey revealing key insights for UK retailers selling to US consumers. The findings demonstrate the sustained effectiveness of Search (e.g. Google, Bing) and online marketplaces.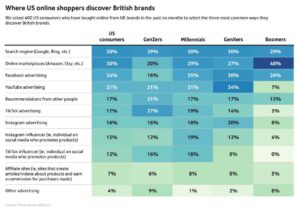 Almost one in three (30%) US online shoppers surveyed say they are most likely to discover UK brands through these two channels, while one in four (24%) discovers British brands through advertising on Facebook.
The BOXpoll survey questioned 400 US-located online shoppers who purchased from UK brands in the past six months. Almost half (48%) the shoppers aged 57 to 75 years – the 'baby boomer' generation – find UK brands through marketplaces such as eBay and Etsy.  More than one in four (27%) Generation Z buyers find UK brands through TikTok advertising, while Facebook advertising leads 26% of Baby Boomers and one in four (25%) millennials to discover a UK brand. One in three (34%) shoppers aged 41 to 56 (Generation X) say they discover British brands through YouTube advertising.
Influencers are more popular with millennials and Generation Z than any other age group. Almost one in five millennials is most likely to find UK brands through Instagram influencers (19%) or TikTok influencers (18%). Generation Z respondents are also responsive to influencers, with 12% discovering UK brands through Instagram influencers and 16% through TikTok influencers. Although these are the groups more driven than other age groups by influencers, Search remains their most common way of finding British brands, as cited by 30% of millennial respondents and 29% from Generation Z.
The latest survey follows BOXpoll data released in May which found one in four (25%) Generation Z shoppers and more than one in five (22%) millennials in the US buy from UK online retailers at least once a month, presenting an exciting new revenue stream for UK sellers.
Georges Berzgal, Senior Vice President International – Pitney Bowes Global Ecommerce, said: "The size of the US market and the appeal of British brands present a fantastic growth opportunity to UK retailers, but sellers must laser-focus their sales strategies and provide an outstanding cross-border delivery experience with fully-landed costs, real-time tracking and estimated delivery dates in order to succeed."
Preferences by generation
Generation Z (born between 1997 and 2012)
Search is the most commonly stated channel for younger US consumers to discover UK brands, cited by 29%, followed closely by TikTok advertising (27%). 21% say they find brands through YouTube advertising, and the same percentage discover UK through personal recommendations. One in five (20%) US Generation Z shoppers is introduced to UK brands through online marketplaces. 16% find brands through TikTok influencers and the same number through YouTube and Facebook advertising.
Millennials (born between 1981 and 1996)
30% of US millennials in the poll find UK brands through Search, 29% through marketplaces and one in four (25%) is influenced by Facebook advertising. 21% cite YouTube advertising, and 19% find UK brands through Instagram influencers or TikTok advertising. 18% say their purchases are generated by TikTok influencers or Instagram advertising.
Generation X (born between 1965 and 1980)
YouTube advertising is the most popular channel in introducing Generation X buyers to UK brands, cited by more than one in three (34%). Search and Facebook advertising were cited by 30%, and 27% cited online marketplaces. One in five (20%) were influenced by Instagram adverts. 17% cited recommendations from other people, and 14% were driven by TikTok advertising. Influencers had less impact on this group, with 12% saying Instagram influencers drove their purchases, and 8% citing TikTok influencers.
Baby Boomers (born between 1946 and 1964)
Almost one in two (48%) in the BOXpoll survey find British brands through online marketplaces. Nearly one in three (29%) find UK sellers through Search, and more than one in four (26%) through Facebook advertising. 15% discover them through recommendations from other people.
The data is announced following the recent launch of Designed Cross-Border services from Pitney Bowes, created to make ecommerce logistics easier for UK retailers and helping them to deliver a cross-border experience to the US and Canada, which replicates the best domestic experience.
The post Survey reveals channels to online success appeared first on Logistics Business® Magazine.