Yale Materials Handling has changed its brand name to Yale Lift Truck Technologies. The rebranding reflects the company's emphasis on technology-enabled lift trucks for warehouse and intralogistics operations, delivered through a strong network of independent dealers.
Yale says the rebrand highlights how it is responding to ever-changing market conditions and demands, whilst emphasising its strengths in providing solutions for customers' needs.
"The intralogistics landscape is in a state of growth and innovation, particularly across Europe, Middle East and Africa," explains Stewart Murdoch (pictured), Senior Vice President, Managing Director – EMEA, Hyster-Yale Group. "As supply-chains evolve ever faster, Yale is also evolving to support customers and provide bespoke solutions to meet their challenges."
Yale specialises in developing lift-trucks and the integration of technology. This combined with its heritage, knowledge, and working with its dealer partners, enables it to deliver the perfect fit for customers. "The brand name Yale Lift Truck Technologies reflects the way we are evolving with our customers to deliver the right solutions for their application-specific needs," said Murdoch.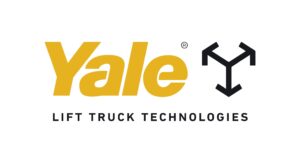 The new brand name is founded on a smart design philosophy and technology integration. This builds on Yale's 100-year-long heritage of designing and manufacturing reliable lift truck technologies which keep evolving to meet the challenges facing today's industries.
As part of the rebrand, there is a new logo and visual identity for Yale Lift Truck Technologies. The new logo is representative of the Yale 'Y', the 'boxes' it moves for customers, and 'arrows' to indicate its desire to help customers with upward growth and increased productivity while pushing down costs.
Yale and its network of dealer partners are focused on customer success and supporting productivity, efficiency, and sustainability in the fast-changing intralogistics market. "Flexible, high-quality service and fast adoption of innovations will be key for meeting the perpetually increasing need for faster delivery times in our customers' warehouses," said Murdoch.
Yale has an established record of technology-driven lift truck solutions. This includes a full line of lift trucks and warehouse trucks, robotic lift trucks, various power options for electrification, next-generation operator assist technology and customer-specific solutions. All delivered to customers through its dealer partners.
Yale's dealer partners create long-lasting, successful relationships with customers. This ensures that the right advice and flexible solutions can be delivered to warehouse and intralogistics operations, every time they are needed. Through them, Yale also delivers top-class maintenance and service support. "Our independent dealer partners allow Yale to focus on what we do best – the design and manufacture of innovative, reliable, and efficient lift truck technologies that last. While our dealer partners bring an in-depth understanding of what it takes to make our customers successful," concluded Murdoch.
The post Yale Reveals New Lift Truck Identity appeared first on Logistics Business® Magazine.